Welcome to the website of Tricia Stewart, the originator and driving force behind the alternative WI Calendar that continues to be a global phenomenon, raising more than £6 million in the fight against blood cancer. 
Tricia has an amazing and inspirational story to tell. The movie Calendar Girls, the West End stage play and now a brand new musical, written by Gary Barlow and Tim Firth, are all based on her story.
The Calendar Girls story
Uncover the real story of the group of WI members intending to raise £5, 000 in memory of John Baker, husband of Angela – one of their group…but who have now raised almost £6 million!
Read Tricia's book
Tricia has published a book which charts the story of the calendar from April 1999, including the Hollywood movie, stage show and the 2017 West End musical. Click here to find out more and buy a copy.
 A new West End musical!
The Girls launched to five star reviews, in 2017, in London's West End. Find out more…
Speaking engagements
Tricia regularly undertakes speaking engagements in the UK and around the world.
Click here to find out more.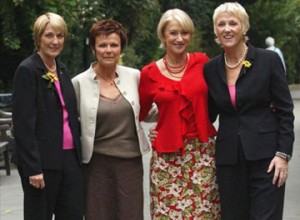 Pilates
And if that weren't enough. Tricia is also dedicated to keeping the Yorkshire Dales flexible.
She runs a number of Pilates classes near her home of Linton in Craven. If you would like more information, see the Pilates section.